Black History Month 2022: Viola Desmond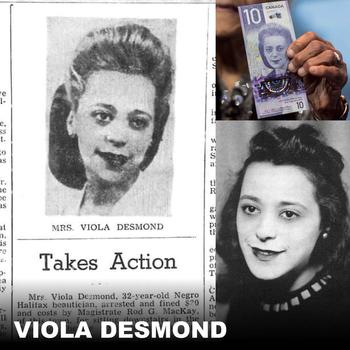 February 28th, 2022
Family Resources
BLACK HISTORY MONTH 2022
During Black History Month in 2022, children in Umbrella centres will be celebrating Black Canadians that have had an impact on our history. Particularly important and meaningful to our children and families will be four individuals that schools our programs operate in are named after: Lincoln Alexander, Michaëlle Jean, Ray Lewis, and Viola Desmond.
Today, we are learning more about…
Viola Desmond
Viola Desmond (1914-1965) was a beautician, mentor, and entrepreneur. Passionate about the beauty industry, she sold her own products and opened the Desmond School of Beauty Culture in Nova Scotia as a means to provide training and employment for Black Canadian women.
One day in 1946, Viola went to see a movie at the Roseland Theatre. When she tried to buy a main floor ticket, she was denied. "I'm sorry, but I'm not permitted to sell downstairs tickets to you people," the ticket agent said. Although she offered to pay the one-cent extra charge for the seat she wanted, the agent refused because it was an unspoken rule that the area was for whites only. She found a spot in the section anyway and was arrested as a result. The charges went unpardoned throughout her lifetime. Desmond's courageous refusal to accept an act of racial discrimination provided inspiration to later generations of Black people in Nova Scotia and in the rest of Canada.
It wasn't until 45 years after her passing, on April 15, 2010, that Desmond was granted a pardon by Nova Scotia Lieut. Gov. Mayann Francis at a ceremony in Halifax.
In December 2016, the Bank of Canada announced that Viola Desmond would be the first Canadian woman to be featured by herself on the face of a banknote — the $10 note released in November 2018.
In 2017, the Ministry of Education approved funding for a new elementary school in Hamilton that would replace several other older schools. HWDSB trustees asked for suggestions for names for the new school and "Viola Desmond" was chosen. Viola Desmond Elementary School opened in September of 2021 and Umbrella is honoured to operate a full day child care centre within the school as well as before and after school programs.
Learn more — Viola Won't Be Budged! is a children's book that illustrates her story for children 6-8 years old. You can purchase it on Google Play, Chapters/Indigo, or Amazon.