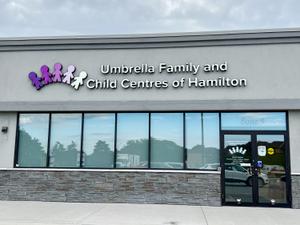 For over 30 years, Umbrella Family and Child Centres of Hamilton has enjoyed the reputation of being an organization that offers high-quality programs to children and their families. We operate 27 centres in public elementary schools throughout the City of Hamilton – including outlying areas – and provide service to over 2,400 children each day.
In operation since 1988, Umbrella is a non-profit corporation administered by a community-based Board of Directors who have a keen interest in early learning and childcare.
We take pride in the diverse and rich backgrounds of our employees, families, and the communities we serve. We have developed and implemented policies and procedures that address and reduce systemic racism and anti-bias practices throughout the organization. Diversity is celebrated by acknowledging similarities and differences and providing perspectives that embrace beauty and value all differences. We provide opportunities through materials and experiences for children, and through professional development for staff to explore diverse perspectives, backgrounds, and practices.
Located within elementary schools, families appreciate the availability of a 'seamless day' for their children – early learning, care and education 'under one roof'. Since programs open at 7:00 am, families are free to leave their children in the hands of capable, competent and caring staff members until it is time to pick them up at the end of the day.
Join our mailing list!
Sign-up to be notified of important information and updates from Umbrella.