2023 CWELCC Update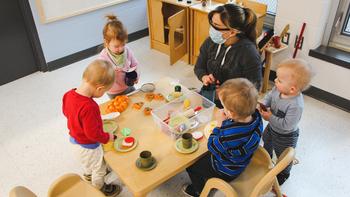 December 20th, 2022
CWELCC
As a follow-up to our communication on December 8th, we are pleased to share additional details regarding a further CWELCC fee reduction effective December 31st. Base fees for eligible children will be further reduced by an additional 37% on the December 30th, 2022 billing date. An updated fee chart can be found on our website here and your updated Fee Schedule will be shared with you in the coming days.
As a reminder,  you may be eligible for reduced fees if:
you pay more than $12.00 per day for child care and your child is:

under 6 years of age, or
turns six years old between January 1 and June 30 in any calendar year, and is enrolled in a licensed infant, toddler, preschool or kindergarten program.
This further fee reduction combined with the fee reduction which took place as of April 1, 2022, results in base fees being reduced for a total of 52.75%. This is a significant cost savings for families, and we are pleased to pass this savings on to families.
Please contact your Site Supervisor if you have any questions. Contact information can be found on our website here.