Umbrella is a Great Place to Work®!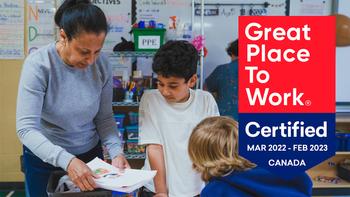 March 28th, 2022
Umbrella News
Umbrella is proud to announce that we have been certified as a Great Place to Work® after a thorough, independent analysis conducted by Great Place to Work Institute® Canada. This certification is based on direct feedback from employees, provided as part of an extensive and anonymous survey about their workplace experience.
A great workplace focuses on the level of trust that employees experience in their leaders, the level of pride they have in their jobs, and the extent to which they enjoy their colleagues.
"With all the challenges and unknowns we have faced in the past two years, this certification demonstrates the resiliency, dedication and care each employee brings to Umbrella Family." ~ Darryl Hall, Executive Director
---
What makes Umbrella a great place to work?
Professional Development and Opportunities to Grow
Umbrella offers many opportunities for our employees to grow in their careers and within the organization. We pay for memberships for all employees to ASCY, a local community partner, which offers unlimited professional development training. Umbrella is a registered sponsor of the Child Development Practitioner Apprentice Program and assists with the cost of the education through our Apprentice Lending Program. In this program, the organization will lend employees the cost of the required courses and make payroll deductions over the course of six months.
Health and Wellness Program
The health and well-being of our employees is a priority at Umbrella. The organization offers a comprehensive Employee Assistance Program for all employees, starting from their first day. The Employee Assistance Program offers support and assistance in the areas of family, health, life, money, and work. Umbrella also has an organization-wide Health and Wellness program that offers themes of physical health and mental wellness each month. In this program, employees receive information regarding the month's theme and voluntary group activities in their monthly staff meetings.
Priority Child Care
Umbrella employees receive priority for their child/children on the waiting list for child care programs operated by the company.
Benefits and Group RRSP
Umbrella offers full benefits and company match group RRSP options to all permanent employees after completing their probation. Full time employees have their benefits 100% paid by the company and part-time employees co-pay their premiums. The organization conducts a review of the benefit plan provided to employees, ensuring that the rates and services being provided are meeting the needs of both employees and the organization on a yearly basis.
Supportive Culture
The COVID-19 pandemic gave Umbrella the opportunity to put our values into action. During school closures, the organization made the decision to pay all employees while they remained home during periods of unexpected closures and created professional development opportunities to further employees' skills while at home.
The employees who were required to work in person during closures and at the peak of the pandemic were given an additional pandemic incentive premium to their hourly wage. Umbrella also offered employees who were required to stay home due to family obligations during school closure the time off with pay. As a response to the general stress and fatigue our employees have faced throughout the past two years, the company implemented stronger health and wellness programs, gave paid time off to staff during the Winter Break, and had the senior management attend monthly staff meetings to show solidarity and to listen to our employee's needs. The last couple of years have strengthened us and given us the opportunity to display our values as an employee-first organization.
Equity, Diversity, and Inclusion
At Umbrella, we take pride in the diverse and rich backgrounds of our employees, families, and the communities we serve. We have developed and implemented policies and procedures that address and reduce systemic racism and anti-bias practices throughout the organization. Diversity is celebrated by acknowledging similarities and differences and providing perspectives that embrace beauty and value all differences. We provide opportunities through materials and experiences for children, and through professional development, for staff to explore diverse perspectives, backgrounds, and practices.