Orange Shirt Day 2022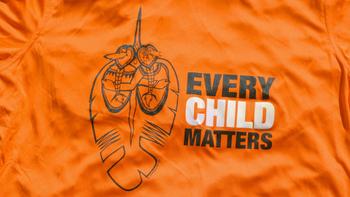 September 16th, 2022
Umbrella News
September 30th is Orange Shirt Day. This is a day to honour the Indigenous children that attended residential schools, the survivors, their families, and those that did not make it home.  We wear orange on September 30 in remembrance of the new orange shirt that was taken away from Phyllis Webstad when she arrived at residential school. To learn more about Phyllis Webstad's story and the history of Orange Shirt Day please click here.
Last year the City of Hamilton provided a number of books as well as orange shirts for all children and staff in early learning programs throughout the city as part of their Honouring our Children/Every Child Matters initiative. This year the City will provide all early learning programs with more books to build on the current collection. We have included the complete collection of book titles so you may explore them as well. We encourage you to engage in reading and learning about the day along with your child(ren) to help prepare them to understand the day.
Explore this year's book list.
On Friday, September 30, 2022, we invite all families to send your children in the shirts they received last year or any other orange shirt they may have to honour those Indigenous children and families and support the 'Every Child Matters' initiative.
We want to remind everyone that September 30 is not a spirit day or day of celebration, but one of honour, reflection, and support towards reconciliation. Our programs will be offered guidance regarding appropriate programming for children from our partners, Niwasa Kendaaswin Teg, an Indigenous early years program in Hamilton. You can download their Orange Shirt Day guide here.