Cook's Corner: Planning our Seasonal Menus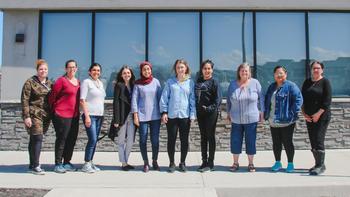 May 25th, 2022
Cook's Corner
In Umbrella child care programs, our cooks are responsible for menu planning, purchasing groceries and supplies, and daily preparation of nutritious meals and snacks for the children who are enrolled in our infant, toddler, and preschool programs. Cook's Corner is a blog series that will share more information about our cooks and how food is prepared and served in our programs. Enjoy!
All of our cooks gathered at our Head Office recently to discuss their ideas and to decide on a Spring/Summer 2022 menu together. We asked Sheila Greenland, one of our Program Managers, about Umbrella's collaborative biannual menu creation process.
What makes Umbrella's menus special?
It's a group effort to plan the menus and everyone has a voice that is valued. Our cooks meet twice a year to plan our centre menus and to discuss what works and what doesn't. We share ideas and help each other with time management and ways to use different ingredients. Even though our menus are the same across the organization, the cooks can prepare the main ingredients in different ways to meet the needs of children in the program where they work.
Our cooks meet twice a year to plan our menus.
How does your collaborative menu planning process work?
Before our season-changing menu meeting, I send out last year's menu and ask the cooks to review it and note any changes they would like to see happen. I ask that each cook bring a least one new dish to the meeting so that we can review and incorporate it into the new menu. We review the menu week by week, making changes as needed, and leaving in some favourites from the last menu.
What steps do you take to ensure that the menus are nutritious?
We follow Canada's food guide and we are mindful of the different food groups. Knowing that fresh is always the best choice, we try to stay away from packaged and processed food as much as possible. Our cooks bake and cook on-site, and know what ingredients are in the products they use. They are conscientious of any food allergies or restrictions within their centres. Additionally, every Monday is now Meatless Monday in our programs.
Annotating the Spring/Summer 2022 menu.
How do you incorporate multicultural dishes into the menu?
The cooks have been inviting parents within their programs to share recipes from their cultures which they may prepare for lunch or snack in our programs. Every Thursday is now Multicultural Day when our cooks will research and prepare diverse dishes for the children to try at lunch. While the staff are sitting with the children during lunch or snack, conversations are always encouraged! They discuss any new/unfamiliar foods that they've been served, where a dish originates from, who in the group has eaten it before, etc.
---
At Umbrella, we encourage parents to get involved by sending in their child's favourite recipe so that our cooks may be able to incorporate it in a meal or snack in the program. We are proud of our cooks and their dedication to providing nutritions and varied menu options in our full day child care programs!
Spring/Summer 2022 Menus for Full Day Programs
Umbrella's cooks reviewing the new menu and recipe suggestions.
---
Request care | Become a cook at Umbrella Family | Share one of your family recipes with us! Email info@umbrellafamily.com
Explore Cook's Corner