Cook's Corner: Umbrella Cathy Wever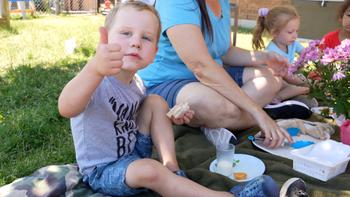 July 27th, 2022
Cook's Corner
In Umbrella child care programs, our cooks are responsible for menu planning, purchasing groceries and supplies, and daily preparation of nutritious meals and snacks for the children who are enrolled in our infant, toddler, and preschool programs. They are valuable and important team members and work diligently every day to make sure the children are offered healthy options. Cook's Corner is a blog series that will share more information about our cooks and how food is prepared and served in our programs. Enjoy!
We visited Umbrella Cathy Wever and their cook, Brenda Reid, for an al fresco lunch with their preschoolers. Eating outside is a fun sensory experience for children. Hearing the birds chirping and taking in the fresh air as they eat helps to keep them in good spirits. Watch our picnic lunch in the video above, and enjoy Brenda's reflection below.
What is your culinary background?
I started by working in fast food restaurants when I was a teenager. I've wanted to use my cooking skills to serve others since I was young. As college approached, I decided to take culinary management at George Brown College in Toronto. I completed a year of the program, then decided to start a family so my college plans went on the back burner. When I did return to the workforce after being out of it for 17 years, it was daunting to see how much the industry had changed. I worked for a few nursing homes and then joined Umbrella.
How does being outdoors impact the children's behaviour during lunch time?
At first, I wasn't really sure how the kids would react. In the end, they did very well and were not distracted too much by their surroundings. Dining outside with the children has pros and cons. While cars and people walking by may distract them from having lunch with their group, it turned out to be a good learning experience for them. It gave them an opportunity to learn how to have a few sensory triggers going on at a time, while still being engaged in having lunch with their friends.
How did you guide the children through the multiple senses they had to take in while dining outdoors?

I helped the children stay focused by conversing with them about our food, while also guiding them through appreciating the colours, smells, sounds, and textures of the food and nature around us. Noticing and discussing these sensory triggers while they ate appeared to enrich their experience. With multiple senses heightened, I think it helped them be eager to eat lunch. The experience, although new and exciting, was very relaxing, which is known to aid digestion.
---
Chicken Salad Sandwich (PDF)

courtesy of Brenda Reid, Umbrella Cathy Wever
Ingredients:
4-5 chicken breasts
8 cups water
1 tsp garlic powder
1 tsp minced onions
1 tsp seasoning salt
2/3 cup mayo
Bread
Butter
Directions:
Bring 8 cups of water and 4-5 frozen chicken breasts to a boil.
Season with 1 tsp garlic powder, 1 tsp minced onions, 1 tsp seasoning salt to taste.
Boil chicken for around 20 minutes to an internal temperature of 165 degrees.
Strain chicken (into a bowl if you wish to save the broth).
Cover and refrigerate the chicken for an hour to around room temperature.
Shred the chicken with an electric mixer.
Add and combine 2/3 cup of mayo.
Serve as a sandwich with your choice of buttered bread.
Enjoy!
---
Request care | Become a cook at Umbrella Family | Share one of your family recipes with us! Email info@umbrellafamily.com
Explore Cook's Corner