Cook's Corner: Umbrella Viola Desmond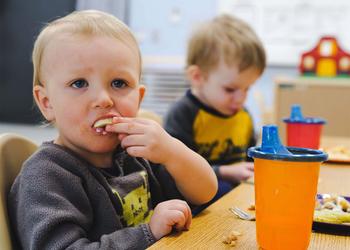 March 2nd, 2022
Cook's Corner
In Umbrella child care programs, our cooks are responsible for menu planning, purchasing groceries and supplies, and daily preparation of nutritious meals and snacks for the children who are enrolled in our infant, toddler, and preschool programs. They are valuable and important team members and work diligently every day to make sure the children are offered healthy options. Cook's Corner is a blog series that will share more information about our cooks and how food is prepared and served in our programs. Enjoy!
We visited Umbrella Viola Desmond and spoke with their cook, Diana Safranyos, to learn more about her and how she prepares food for the children in their programs.
Can you tell us a bit about your background?
I live and breathe all things food! I'm a Red Seal Chef and have been cooking professionally for over 20 years in a variety of settings — banquet halls, the Canadian Military, The Art Gallery of Hamilton, Good Shepherd Youth Services, Denninger's, hospitals, a reality TV show, and at McMaster University. I love learning new recipes and techniques, as well as sharing my knowledge through social media.
Viola Desmond has three full day rooms with ages ranging from infant to preschool – that's a lot of children to keep track of and many have dietary restrictions or allergies. How do you manage their diverse needs and your time?
I believe some of the keys to success in my role are good organization, communication, and time management. I'm highly experienced in working with dietary restrictions, food allergies, and religious dietary requirements. Food safety and respect always begins with following H.A.C.C.P.  I'm constantly updating my knowledge on the children's needs through communication with their families and our Supervisor. I follow the required food safety procedures that help keep everyone safe and dietary needs are respected at all times.
One day each week, our menus have a "Cook's Choice" option. How do you decide what to prepare on those days?
I try to pick a new country and explore recipes from their culture. I'm working on gathering more recipe inspiration directly from our families through Storypark, so the children can learn more about their friends and the foods they enjoy.
Our menus are carefully planned in accordance with Canada's Food Guide to ensure children are provided with healthy options. Can you let us know more about your process in preparing our menu items?
I always take into consideration how the cooking method I choose will affect the nutritional value of the food I'm preparing. For example, roasting or steaming a root vegetable rather than boiling it. I usually choose to prepare dishes from scratch, so that I'm able to control the amount of sodium, sugar, and preservatives I'm serving to the children.
Picking up the groceries → Preparing chicken fingers → French toast breakfast ready to serve → French toast plated
What does a typical day/week look like for you in your role as a cook with Umbrella?
It's always busy! If it's a Monday, I pick up and organize food for the week and check on the condition of produce in the kitchen. Each morning I wash and sanitize the food carts and dishes, then prepare breakfast and assist our staff with serving the children. Then I collect the daily attendance from each room so I can calculate what will be needed at lunch. Lunch is prepared and loaded onto carts and delivered to each room and then cleaned up afterward. After lunch, I collect and do the laundry and wash and put away all the lunch dishes. The afternoon is for meal prep for the next day and starting or adding to my grocery list for the next week's menu. On Fridays, I place our grocery order for Monday.
Diana studies her detailed task list for the week → washing dishes → doing laundry → reading the week's menu
With dishes like homemade chicken samosas and vegetable stir fry with rice noodles — we are grateful to have a cook with Diana's skill and passion at Umbrella Viola Desmond.
---
Request care | Become a cook at Umbrella Family | Share one of your family recipes with us! Email info@umbrellafamily.com
Explore Cook's Corner