Black History Month 2022: Michaëlle Jean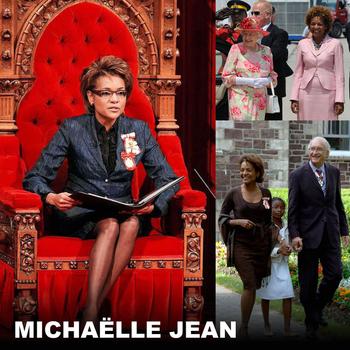 February 14th, 2022
Family Resources
BLACK HISTORY MONTH 2022
During Black History Month in 2022, children in Umbrella centres will be celebrating Black Canadians that have had an impact on our history. Particularly important and meaningful to our children and families will be four individuals that schools our programs operate in are named after: Lincoln Alexander, Michaëlle Jean, Ray Lewis, and Viola Desmond.
Today, we are learning more about…
Michaëlle Jean
Michaëlle Jean served from 2005 to 2010 as Governor-General of Canada, the 27th since Canadian Confederation. She was the first Haitian Canadian and Black person to hold this office. In 2012, she was sworn in as a member of the Queen's Privy Council for Canada.
Jean was born in 1957 in Port-au-Prince Haiti. She came to Canada as a refugee in 1968 and was raised in Quebec. Before her success in parliament, she earned many university degrees, worked as a journalist with the CBC, and gave back to her community through charity work, especially with organizations are that against domestic violence.
"From what I have seen, I can tell you that not only are Canadians everywhere speaking out and identifying the problems but there are also solutions coming out of every corner of this country. Even municipalities like Charlottetown are taking a stand against violence against women,"
said Jean in her speech on the occasion of a discussion with practitioners of family violence prevention.
In 2010, Jean became UNESCO Special Envoy to support reconstruction efforts in Haiti, her country of birth devastated that same year as a result of a powerful earthquake. In 2014, she became 3rd Secretary General of La Francophonie at the 15th Summit of Heads of State and Government held in Dakar, until 2019.
In 2010 Michaëlle Jean and her husband founded The Fondation Michaëlle Jean Foundation, whose vision is a Canada where young people are socially engaged, included in their communities and have their voices heard.
Learn more — "Michaëlle Jean" is children's book by Terry Barber on her legacy. You can purchase it on Amazon or Chapters/Indigo.