Health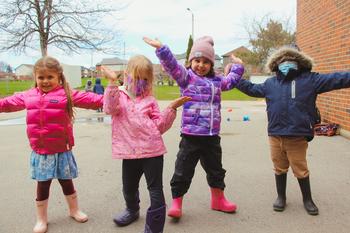 Information regarding health concerns (e.g. allergies, asthma, dietary restrictions, special needs) is collected from each parent upon registration of their child in an Umbrella program. It is extremely important that staff members are kept informed regarding the individual needs of your child. If your child has allergies or other health concerns, please notify the Supervisor or Program Leader in writing using the appropriate Umbrella form. 
Immunization
As required by the Hamilton Public Health Department and the Ministry of Education, Umbrella staff are required to forward proof of immunization to the Hamilton Public Health Department for infant, toddler and preschool children prior to admission.
Daily Health Check
Umbrella programs are not equipped to provide care for ill children. In order to minimize the spreading of illness in our programs, a health check is done upon each child's arrival at the program. Children cannot be accepted for the day and parents will be asked to make alternate arrangements when the child is experiencing conditions including but not limited to:
Diarrhea
Fever
Headache
Vomiting
Persistent Cough
Severe Pain
Discharge from Eyes
Unusual Rash
If a child develops any of these symptoms while in the program, a staff member will contact the parent (or designate to make arrangements to have the child picked up from the centre as soon as possible. As your child recovers, they must be free of symptoms for 24 hours before returning to the child care centre.
In the event of a public health crisis, Umbrella may be required to comply with additional health regulations in order to admit children into our programs. During such events, any additional policies/procedures will be available at each child care centre.
Administration of Medication
Umbrella staff will administer medications if absolutely necessary but it is preferred that you arrange for any medications to be administered at home. 
Medication must be given directly to a staff member to ensure that it is locked up and stored appropriately. 
Prescription Medications
Umbrella Administration of Medication procedures requires that parents provide written instructions including the name of the drug, prescription number, dosage and administration times. Staff will provide a Consent to Administer Medication Form for this purpose. The medication must be in the original container clearly labelled with the child's name, date, name of drug and instructions for storage and administration of the drug, including dosage and administration times.
Non-Prescription Medication
Non-prescription medications (e.g. Tylenol, cough syrup, Benadryl) may be administered by staff if the following conditions are met:
The parent provides the drug or medication in the original container and fills out a UFCC-provided label which includes the child's name, name of drug or medication, dosage, date of purchase, expiration date (if applicable) and instructions for storage and administration.
The parent will complete a Consent to Administer Medication Form.
Topical Medications
Written consent is also required from parents to allow staff to apply topical creams and lotions with active medicinal ingredients. These would include, but not be limited to, diaper creams, sunscreen and insect repellent.
Anaphylaxis Policy
Staff must receive training on administration procedures from parents if a child has an Epinephrine Auto-Injector (Epi-Pen.) Parents will be requested to complete the applicable authorization forms and provide the staff with new medication prior to expiry. A child who has been prescribed an Epi-Pen will not be admitted to the program without a current (not expired) Epi-Pen. 
Inhalers and EpiPens
School-age children may be given permission to carry their own inhalers and EpiPens. If they self-carry, the medication must be on their person at all times. Since it is important that this type of medication be easily accessible in an emergency, it will be important that you discuss this with staff and with your child. If a child does not have permission to carry their own medication, it must be given to a classroom staff member to carry on their person so it is available at all times.
Join our mailing list!
Sign-up to be notified of important information and updates from Umbrella.