Sleep Supervision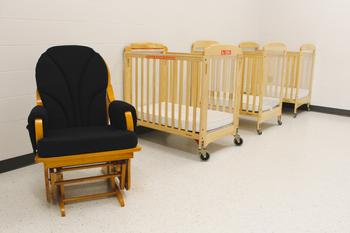 Rest time provides children with an opportunity to relax and take a break from active play. Regulations under the Child Care and Early Years Act, 2014 require that:
Each child in a licensed toddler or preschool group who receives child care for six hours or more in a day has a rest period not exceeding two hours in length.
A child in a licensed toddler, preschool or kindergarten group is permitted to sleep, rest or engage in quiet activities based on the child's needs.
Children under 12 months of age will be provided time to sleep based on their individual needs and will be placed in individual cribs for sleep.
All children who are younger than 12 months of age will be placed on their backs to sleep, unless other instructions are provided in writing by the child's physician. Parents of these children will be advised of the centre's obligation to place their child(ren) to sleep on their backs, as set out in the "Joint Statement on Safe Sleep: Preventing Sudden Deaths in Canada".
Children between 12 and 18 months of age, who receive child care for six hours or more, will be placed in individual cribs or cots for sleep in accordance with any written instructions from the child's parent.
Where children are sleeping in a separate sleep room or area, their names will be posted directly outside the sleep room so that staff can immediately identify which children are present in the room/area.
Parental Involvement
Parents of children who regularly sleep at the child care centre will be advised of the centre's policies and procedures regarding children's sleep.
Parents will be consulted regarding a child's sleeping arrangements at the time the child is enrolled and at any other appropriate time, such as at transitions between programs or rooms or upon request.
Parents will be asked to send in a small blanket or quilt to be used at rest time and informed that a small stuffed toy can also help their child feel more secure.
Staff will inform parents of any significant changes in a child's sleeping patterns or behaviours during sleep and will discuss adjustments to the way the child is supervised during sleep time.
Rest Time
The rest area/sleep room will be supervised by a staff member at all times.
Children will be assigned individual cots.
Children who do not sleep are provided with quiet play activities until the other children awaken. No child will be forced to sleep or to stay on a cot.
Direct Visual Checks
Staff in full day child care centres will perform direct visual checks of sleeping children every 20 minutes by physically checking for indicators of distress or unusual behaviours.
For infants (children under 18 months of age), direct visual checks will be completed at a frequency based on consultation with each parent and may be increased based on the observed sleeping patterns and/or medical needs of each infant or at least every 20 minutes.
Staff will ensure that there is sufficient lighting in the sleep room to conduct these checks.
Direct visual checks will be documented for each child daily on the Rest Time: Record of Direct Visual Checks form. Staff will place a checkmark beside each child's name indicating that they have been checked and place their initials and the time the check was completed at the bottom of the column.
Any concerns or irregularities will be noted in the comments section beside each child's name.
If there are any concerns identified, the information will be included in the child's personal file.
The completed sheets will be stored at the child care centre for three (3) years.
Join our mailing list!
Sign-up to be notified of important information and updates from Umbrella.