Behaviour Guidance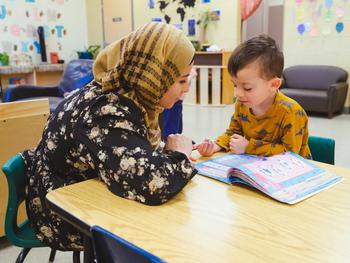 The goal of any behaviour guidance is for children to learn to manage their own behaviour and interactions with others. Children will be encouraged to solve problems by identifying them, thinking about alternatives, making decisions and talking it over with their friends. Behaviour guidance is used in a positive and caring way as opposed to punishing children. It is intended to promote self care, self regulation and an awareness of the effects of one's actions on others. 
Minor behavioural issues are dealt with by staff as they happen. If a recurring behaviour issue occurs, staff will advise the parent and enlist support in resolving it. This may involve requesting resources from outside service providers to help resolve the situation. Working together with parents, we are confident that most issues can be resolved. All parents are required to sign/follow the Umbrella Behaviour Code of Conduct.
Staff are not permitted to use harsh measures that would humiliate a child, withhold basic needs, confine a child in a locked area or physically punish children. All staff, students and volunteers are required to review and sign behaviour guidance policies upon joining the Umbrella and annually thereafter.
Join our mailing list!
Sign-up to be notified of important information and updates from Umbrella.