Registration, Waitlist, Payments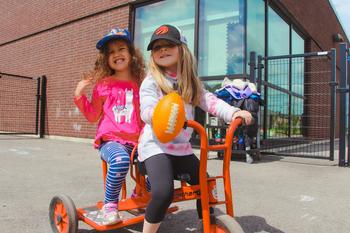 Registration
The first step is to visit our online portal and enter your care request. The portal will show you the locations that are closest to your address for the program/age you need for your child. Once your request is received, staff will get back to you regarding availability and next steps. (This process also is how you are added to our waitlist.)
Parents/guardians who are interested in enrolling their child in an Umbrella program will be invited to tour the centre with the Supervisor or designate. If parents are then interested in registering in the program, a full registration package will be given and a date will be set up for a minimum of two (2) orientation/play visits.
During the orientation/play visits, educators will have an opportunity to observe the child interacting with others, providing them with information to determine the level of support the child may require in adjusting to the program.
When a spot has been offered and accepted in one of our programs, parents are required to pay a non-refundable registration fee of $50.00 per child. Should you withdraw and wish to register the same child at a later date, a non-refundable administration fee of $25.00 will be applied.
After the child has been attending for six weeks, an opportunity will be provided for the Supervisor, staff member(s) and parents/guardians to discuss the child's adjustment to the program. This provides both parties with an opportunity to ask questions, share information and ideas, and determine whether the centre is able to meet the child and his/her family's needs.
Waitlist
When all spaces in Umbrella (UFCC) programs are full, UFCC is committed to maintaining a waitlist that ensures respect for each family and maintains their confidentiality. This is done in a fair, equitable and transparent manner. Families may request information as to their child's position on the wait list at any time.
In accordance with the Collective Agreement between UFCC and CUPE Local 3491, priority is given to employees' children on the waitlist. Whenever possible, priority is also given to siblings of children already registered in a UFCC program or to children transferring from one UFCC program to another.
Umbrella does not request or require a fee or deposit from families for placement on the waitlist.
Part-Time Care
Priority for child care space is given to full-time enrolments. Part-time care is available on a limited basis. Whenever possible, Supervisors and Program Leaders will enroll children so that two children requiring part-time care share one full-time spot in the program. When staff are not able to assign a full-time spot between two children, parents will be responsible for paying for a minimum of three (3) days of care per week, despite their individual care requirements.
Requests to change from full-time enrolment to part-time will not be approved if the centre has a waitlist. An occasional or varied schedule for care is not guaranteed and can only be accommodated with a Supervisor's approval, and if there is not a waitlist at the centre..
Fees
CLICK HERE for information on current rates. If Umbrella fees change for any reason, parents will be notified at least four (4) weeks in advance of the change.
Please note that daily rates and registration fees are considered to be "base fees." Late fees, NSF fees and/or any fees beyond the base fees are determined on an as-needed basis and are considered to be non-base fees. Non-base fees are not eligible for fee reductions through CWELCC.
Umbrella utilizes an age-based fee schedule. Our fees are based on your child's age and may not reflect the group your child is placed in. This fee schedule reflects funding agreements with the City of Hamilton.
Child Care Fees are applied to age groups as follows:
Infant – less than 18 months
Toddler – 18 months to 30 months
Preschool – 30 months to 6 years
Kindergarten – 44 months to 7 years
School Age – 68 months to 13 years
Fee changes will apply according to the following schedule:
All infants will begin paying toddler fees at 18 months.
All toddlers will begin paying preschool fees at 30 months.
All preschool will begin paying Kindergarten fees as of the September when they enter their first year of Kindergarten at school.
All Kindergarten children will begin paying School Age fees as of the September when they enter Grade 1.
Child Care Subsidy
The City of Hamilton provides child care subsidies to eligible families, depending on a family's financial situation. To find out more about Child Care Subsidy, please call 905-546-4870 or visit the City of Hamilton website.
Fee Collection Policies
The following fee collection policies will apply to all families, including those on partial subsidy who are required to pay a monthly contribution to cover centre fees:
Fee Payments
A fee schedule will be provided to parents prior to the child's enrollment in the Centre. Fee Schedules are created three (3) times per year covering the months of January through June, July and August, and September through December. Parents may choose to pay by pre-authorized payment (automatic withdrawal) from their bank account.
The Program Supervisor will be able to provide you with the forms you will need to fill out and submit to the centre to pay by pre-authorized payments. Once the documentation is in place, child care fees will be deducted from your account on a bi-weekly basis. Parents must register for school break programs (eg. PA Days, March Break) separately. These fees are non refundable due to high demand for these programs.
Fees are due, a minimum of two (2) weeks in advance, for each day the child is enrolled in the centre. Full fees are charged for statutory/civic holidays; therefore, parents are expected to pay their regular rate each week.
Absences from the program
The expenses of the Umbrella programs continue during periods of absence and parents are expected to continue to pay for care when their child is absent from the program (e.g. illness, vacation, etc.) Subsidized parents are required to advise their subsidy worker of any prolonged absences or changes in their situation. Full fees are payable on all statutory/civic holidays or HWDSB closures.
Umbrella centres are closed on the following dates:
New Year's Day
Family Day
Good Friday
Easter Monday
Victoria Day
Canada Day
Civic Holiday
Labour Day
Thanksgiving
Christmas Eve – p.m.*
Christmas Day
Boxing Day
New Year's Eve – p.m.*
*Please note that in order to align with the HWDSB policy, the two half day closures may be combined for one full day closure. The date of the closure is determined by HWDSB each year and will be communicated to families. Full fees are charged for this date.
Tax Receipts
Receipts for paid fees will be issued once annually, in February of each year.
Notice of Withdrawal
Parents are required to provide the Supervisor or Program Leader with two (2) weeks written notice of a child's withdrawal from the program. Should the family wish to register the same child at a later date, a registration fee of $25.00 will be applied.
Umbrella staff will do everything possible to ensure that our programs work well for all the children who are registered. This includes making program adjustments and working with parents and members of other professions, when authorized by parents. In rare instances where it is not possible to accommodate a child's needs using the steps above, staff will provide parents with two (2) weeks notice and work with them to find alternate and more suitable child care arrangements. 
Umbrella staff strive to create an environment of mutual respect between themselves and families. Every effort will be made to accommodate family needs and work in partnership with parents. Parents and families are expected to treat staff with respect. Actions of parents and families that violate the Umbrella Anti-Harassment and Workplace Violence Policy could also result in parents being asked to make alternate child care arrangements.
Late Pick Up Fees
Children become anxious when their parents are late. Staff members have other commitments to attend to after work. It is your responsibility to arrive at the centre in time to collect your child and his/her belongings so that the centre can close promptly at 6:00 p.m. 
If you are late picking up your child, you will be charged a late fee of $5.00 per child, plus $1.00 per child for every minute expired beyond the centre closing time. The amount of the late fee will be billed to you by the Supervisor and must be paid within three days. 
This charge contributes to the overtime expenses paid to staff members who are required to stay beyond their regular shift.
If you are late picking up your child more than three (3) times, a meeting will take place with your Program Leader or Supervisor to discuss alternate child care arrangements.
NSF Charges
A fee equivalent to the amount the bank charges Umbrella for an NSF will be applied to your account when a payment is returned NSF. If your payment is returned NSF, funds in the amount of your account balance must be received within three (3) business days. Upon receipt of a second NSF, all of the above will apply. Outstanding accounts must be paid in full on the next scheduled PAP withdrawal date.
Accounts in Arrears
While the Umbrella recognizes that occasionally a family may find it difficult to pay fees on time, please be aware that an account in arrears is not acceptable. Failure to keep your payments up-to-date may result in your child(ren) being suspended from the program until outstanding account balances have been settled. 
Accounts that have been in arrears for a significant amount of time will be referred to a collection agency.
If due to extenuating circumstances you are unable to pay your fees on time, it is in your best interest to speak to the Program Leader or Supervisor immediately. In some circumstances, Umbrella may be able to set up a temporary, more manageable fee schedule to help ease your family through a difficult period.
Emergency Closures
An emergency closure is defined as any event which is outside of the control of the Umbrella and requires us to close our centres. Examples of emergency closures include, but are not limited to: snow storm, centre without heat/hydro, labour disruption, pandemic, etc. In the case of an emergency closure, fees will be payable for all closures not exceeding two (2) consecutive business days. This means that should a centre need to close for up to two (2) days, parents will be expected to pay for care, even though they needed to make alternate arrangements.
Join our mailing list!
Sign-up to be notified of important information and updates from Umbrella.