Staff in Umbrella Programs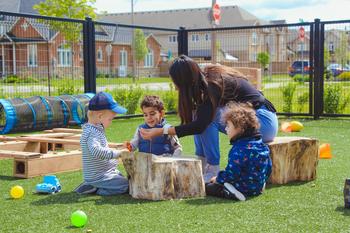 Umbrella offers a collegial and collaborative working environment where the philosophy and programs focus on each child and his/her family.
Most of the staff in Umbrella full day programs and kindergarten extended day programs have an ECE diploma and are registered in the College of Early Childhood Educators (RECE). Staff in school age programs may have an ECE diploma or degree or training and experience in a related field.
In order to be employed by Umbrella, staff are required to demonstrate an awareness of the developmental needs of children and knowledge of current best practices in early childhood education. Experience working with children with special needs is considered an asset when joining our team and additional training is provided on hiring.
All staff are required to provide a current Police Record with Vulnerable Sector check prior to being employed, to renew this every five years and to provide a Declaration of Non-Offense in the years in between. All staff are required to have Standard First Aid and Infant/Child CPR training and participate in WHMIS training on an annual basis. First Aid training is offered each spring. It is also mandatory that all Cooks, Supervisors and Satellite Program Leaders obtain a Food Handler's Certificate.
Umbrella offers competitive wages, benefits, paid programming time, networking and professional development opportunities, including membership in Affiliated Services for Children & Youth (ASCY).  This membership entitles staff members to borrow items from the lending library, research topics of interest, and participate in workshops and networks throughout the year. 
Employees receive additional training upon being hired and are required to complete a minimum of sixteen professional development hours each year.
Join our mailing list!
Sign-up to be notified of important information and updates from Umbrella.