Parents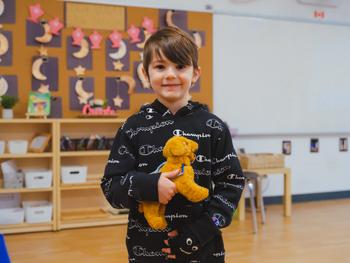 Parents In Programs
Parents are always welcome in Umbrella programs. Please take the time to get to know the staff who care for your child(ren). We recognize that you know your child(ren) best and look forward to working together with you to ensure your child receives the maximum benefit from our programs.
When You Have Concerns
Arrange to speak with your child's educator at a time and place that is mutually convenient for both of you. It is important to us that we have a place where confidentiality is preserved and our educators can take the time to fully understand your concerns. It wouldn't be fair to you or to the children in the program if we engaged in these conversations while the educator is engaged with the children. Alternatively, you may wish to bring forward your concern in writing.
If the concerns cannot be resolved through a conversation with the staff member, it may be suggested that the Supervisor become involved in the discussion. The Supervisor can also be contacted directly to request assistance. The Supervisor is ultimately responsible for the quality of programs and will work with all involved to address issues and resolve concerns.
Most conflicts are resolved at the centre or Supervisor level, however, you do have the opportunity to request the involvement of the Program Manager.
The concern may be able to be resolved right away. If not, the parent will be contacted within 24 hours by a UFCC staff member with an update. We endeavour to resolve all complaints within one week.
The following guide will help you know who to contact. Please visit our Locations Page to view your centre's contact information or call our Head Office at 905-312-9836 to obtain contact information for the person to whom you wish to speak.
TYPE OF CONCERN
WHO TO CONTACT
Program-related concerns (e.g. scheduling, sleep arrangements, toilet training, indoor/outdoor program activities, feeding arrangements, etc.)
• Raise the issue or concern with the classroom staff directly.
• There is also the option of speaking to the Program Supervisor.
Fees, hours of operation, staffing, waiting lists, menus, etc.
• Contact the Program Supervisor.
Staff, supervisor or volunteer-related
• You have the option of raising the concern directly with the individual or you may want to speak to the Supervisor or Program Manager.
• Any concerns about the conduct of staff or volunteers that puts a child's health, safety and well-being at risk should be reported to the Supervisor as soon as parents/guardians become aware of the situation.
Concerns About the Suspected Abuse or Neglect of a Child
Everyone, including members of the public and professionals who work closely with children, is required by law to report suspected cases of child abuse or neglect.
If a parent/guardian expresses concerns that a child is being abused or neglected, the parent will be advised to contact the local Children's Aid Society (CAS) directly.
Staff who become aware of such concerns are also responsible for reporting this information to CAS as per the "Duty to Report" requirement under the Child and Family Services Act.
For more information, visit: http://www.children.gov.on.ca/htdocs/English/childrensaid/reportingabuse/index.aspx
Additional Contacts for Families
| NAME | CONTACT INFO |
| --- | --- |
| College of Early Childhood Educators | 416-961-8558 | Email |
| Children's Aid Society of Hamilton | 905-522-1121 | Email |
| Catholic Children's Aid Society of Hamilton | 905-525-2012 | Contact |
| Ministry of Education, Licensed Child Care Help Desk | 1-877-510-5333 |
Join our mailing list!
Sign-up to be notified of important information and updates from Umbrella.