Vision, Mission, and Values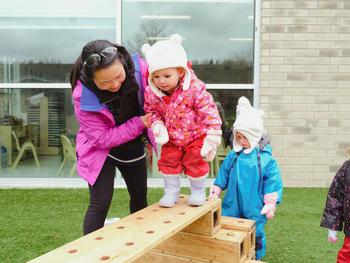 Vision
Thriving Children, Competent Youth, Responsible Citizens
Mission
We are a leading childcare organization committed to high quality programs that are inclusive, accessible and
promote learning and growth.
Values
Caring
Caring for children is at the heart of what we do. Umbrella programs are operated in a spirit of caring for and responding to the needs of children, their families, staff and the community at large. We strive for inclusion and equitable access and we work to create a sense of security and belonging for participants at all levels of the organization.
Collaboration
Umbrella staff are committed to collaborating with children as co-learners in the developmental process and with parents, who know their own children best. Staff work with each other and community members to develop strong partnerships, sharing learning and professional resources in order to allow children to develop to their full potential.
Enrichment
The children's environment, which is recognized as the third teacher, is enriched with a rich variety of materials designed to interest children and provoke inquiry. The professional practice of staff is based on current research and enhanced by a wealth of professional development opportunities and constructive feedback. Programs are enriched by the participation of students on placement and the field of early learning and child care is enriched by the mentoring provided to the students.
Respect
We respect the uniqueness of each child and their family, appreciating differences in development, culture, religion and origins. The role of parents is respected and opportunities are provided for parents to be involved and give feedback. We are committed to non-discriminatory hiring practices and believe that staff should be treated with respect and fairly compensated. Staff, volunteers and students on placement are valued and appreciated. We believe in the importance of high quality child care and early childhood education and advocate for this in the broader community.
Trust
Umbrella staff strive to operate programs that families and community members can trust and that provide parents with peace of mind while their children are in our care. The Board of Directors and staff are committed to operating in a manner that is trustworthy, with business practices that are ethical and transparent.
Join our mailing list!
Sign-up to be notified of important information and updates from Umbrella.